When you're done carving your Jack O'Lantern, there's no need to throw out the seeds. They can be eaten, just like sunflower seeds.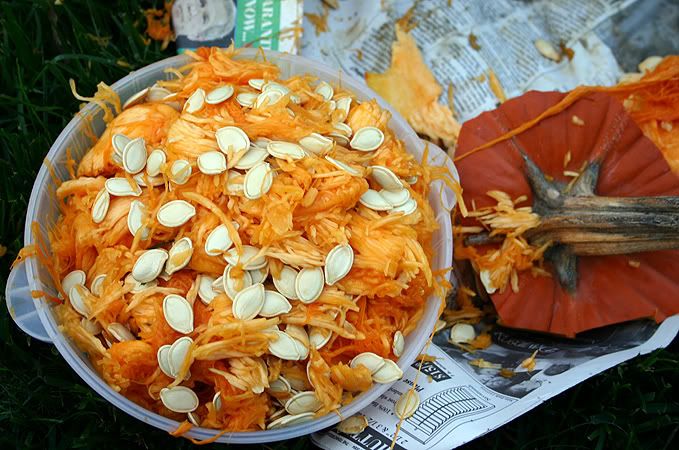 All you need is the seeds and a seasoning of your choice. Or no seasoning, if you prefer them plain. Rinse the pumpkin seeds with your fingers, making sure to remove any pulp from them. Drain the seeds and discard the pulp. Once that's done, you spread them out on a cookie sheet to dry overnight.
If you like extra salt, soak the seeds overnight in a solution of 1/4 cup salt to 2 cups water. Allow to dry an additional day, then proceed with the directions below.
Heat a large, heavy-bottomed dry skillet over medium heat. Add the pumpkin seeds. Shake and stir the seeds constantly to prevent them from burning. When the seeds begin to turn golden, start to pop open, and release their aroma they are done.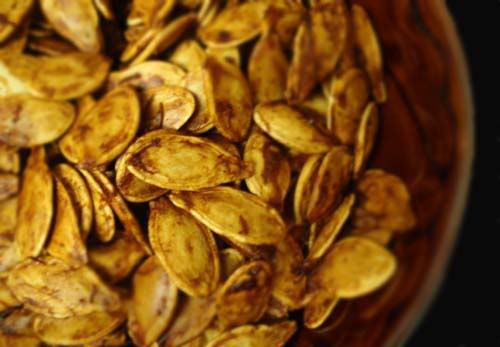 Sprinkle the hot seeds with the seasoning of your choice and toss to coat. Cool the seeds before eating or storing them.
When stored in an airtight container, they can be kept for up to 3 months at room temperature or in the fridge for up to a year.